mucho tiempo.
listening:
a sun came (sufjan stevens)
feeling:
medicated

Long time no post. It's hard when you don't have a computer. Also my bother came up from Massachusetts so I was busy watching movies, going to restaurants, shopping for winter jackets.
This post is gonna be short because, as I said in the previous one, it's crafty not shoppy, and I guess I have a lot less things to say about what I make than about what I like, maybe it is because I am humble, maybe it is because I am empty.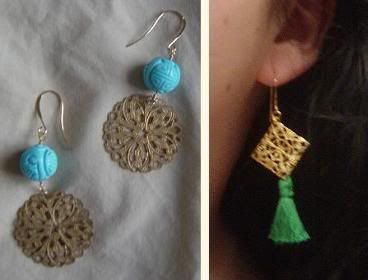 The first pair is made out of antique brass filigree circles and chinese carved turquoise beads. They are long (3") , and I am not sure I like how they look on me. I made 2 pairs of these, I think I am gonna give one to my mom.
The second pair is victorian brass filigree also and a little tassle, I have enough filigrees to make like eight pairs, but maybe I'll just use the squares for something else.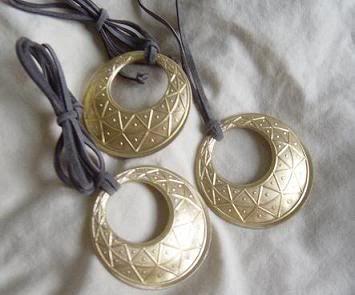 And last, I had bought this vintage brass pendants with the idea of making them into earrings, just attach a hook and go, but they were too heavy, and god knows I am not one to put beauty before comfort so they became necklaces. I think they would make nice christmas presents or something like that.
And know the kitchen awaits me, I am making my moms lentil soup, and maybe pumpkin pie.