Sin novedad.
listening:
construction
feeling:
hungy
I am back. Sooner that I wished for, and that's kinda of shameful, why? well because I am no back to tell storys of my wonderful life, but because I am incapable of human interaction, if it's not this way then there's no comunication, why can't I ever meet people?
I like my layout, it' still needs some sass, but CSS gives me a headache, and makes me throw temper tantrums out of frustration. But how do you like my little pear favicon? pretty huh?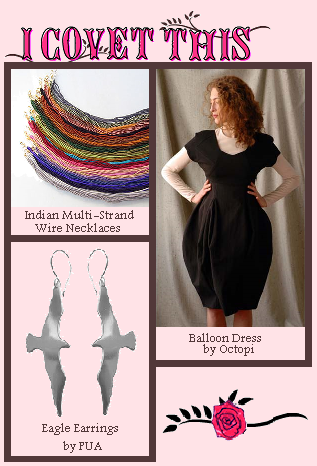 So for
Nylon
readers
I covet this
is old news, but still I feel I need to post about it, just because I've been thingking nothing but clothes lately. So why is
I covet this
awesome? not only do carry stuff that is not available for all of us non-newyorkers in their retail therapy, but they also have this tiny profiles of indy designers like
Octopi
(oh love!),
Cece Chin
(she not only desings the cutest shoes, she is too cute herself), and
Ashley Tyler
(where is her fall collection? can somebody tell me please?), and that's good because we all know how small stuff falls right throguh googles grid, try it,
gooogle "octopi"
let's see what you get. My
I covet this
top picks:

Anyway, so I finally decided not to move out, I sitll feel too misanthropic to have to try and please 20 or more prospective landlords, so I guess a bigger lock and an alarm system would have to do it for now. On the downside, I had already started clipping pictures of furniture and collecting paint swatches for my hypotetical new home, and now I am starting to feel decor frustration.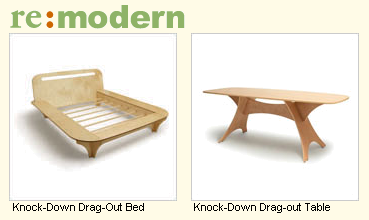 One cool websites I found while looking for ideas is re:modern, you can shop by theme, like
Hybrid
,
Flexible
,
Sustainable
,
Small Spaces
, they have some really smart furniture like
the Knock-Down Drag-Out series
by Christopher Douglas that was basically conceived for people that move around alot
, and my favorite the squat furniture modules, they look sooooo practical! but of course this all is just for the idea, because at $395 a pop is why out of student budget. What I can afford, is to make my own, see how simply the are constructed? is just a good 'ol magazine rack and a shelve, so:



And with that I go, I have to go shopping for locks and kitty litter.